We are delighted to have been named as one of ten finalists in the 'Sussex Eating Experience of the Year' category in the 2015/16 Sussex Food & Drink Awards.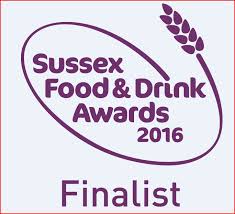 The announcement was made by BBC Sussex Radio presenter, Danny Pike, in a ceremony at Harveys Brewery in Lewes, where over a hundred Sussex food and drink business leaders were gathered for the 10th anniversary of the Sussex Food & Drink Awards at the 'Big Reveal' of this year's awards finalists.
We are thrilled to have been named as one of ten finalists in this category. We're hoping as many people as possible will vote for us at www.sussexfoodawards.biz – it only takes a minute or two and every vote really does count! Voting ends on 21st September. We pride ourselves on the use of local produce in our kitchen wherever possible and to be recognised for this, and for the quality of the food we serve, is incredibly rewarding.
The winners and runners up in all ten categories will go on to receive their trophies at a glittering tenth birthday ceremony on 28 January 2016, hosted by patron to the awards, Sally Gunnell OBE and Danny Pike. Keep your fingers crossed!
Please vote for us at www.sussexfoodawards.biz